Dear Friends,
Welcome to APPFI's third newsletter and first release for 2016. It features three commentaries by Aileen Baviera, Antoinette Raquiza and Leticia Ramos-Shahani, all relevant to recent developments in Philippines-China relations. The commentaries discuss history, foreign policy and prospects for cooperation between the two nations. The newsletter also contains the latest news about the activities of the organization – roundtable discussions, interviews, lectures and visits. The Friends and Partners section features seven graduate students from the University of the Philippines and their take-aways from a recent visit to Guangzhou.
We are constantly updating our Information Archive on Philippines-China relations to keep you in the loop with recent events concerning economic, political and security ties, as well as on developments in their foreign policies and regional affairs. You can also keep in touch with us through Facebook.
During the Chinese Spring Festival celebrations last month, many people on both sides expressed hoped for better ties between the two countries. Despite territorial disputes, where tensions have sadly been increasing, it still remains in both countries' strategic interest to develop a good relationship as neighbors. Here's to a more peaceful and harmonious future in the year of the Monkey!
Regards,
APPFI Secretariat
Editor's Note
From EDSA to EDCA: Are We Correctly Valuing the Lessons of History?
Catharsis. Emotional release, relief, venting. Purging, purification, cleansing. Renewal. The Filipino drama.
February 2016 marks the 30th anniversary of the so-called EDSA Revolution, the overthrow of the military-backed and U.S.-supported authoritarian rule of Ferdinand Marcos. He was president from 1965 until 1986, altogether 21 years. Before Marcos, 21 years would have meant five presidents governing. After Marcos, it would have meant three and a half presidents, except that Gloria Arroyo had all the luck, and Erap Estrada none.
Commentaries
ASEAN and the Belt and Road Policy Initiative: Prospects and Challenges
For many who study China, the land-based Silk Road Economic Belt and 21st Century Maritime Silk Road, which could more effectively extend China's economic and geopolitical presence halfway around the globe, seem a natural progression of the country's rise on the global stage. In order to advance to a higher level of development, this economic juggernaut, with its population of 1.3 billion, requires ever-increasing access to resources and markets. And, if history is our guide, China is in a better place than those who came before it and had climbed to the top of the global economy in record time. Up until the first half of the 20th century, rising global powers had to contend with closed and segmented markets.
Thoughts on Philippine-Chinese Relations
Philippine-Chinese relations, between these two neighbors who have peacefully interacted with each other in the past, are both profound and complex because they have been based on people-to-people relations. The Philippines, representing the smaller and younger culture, has been on the receiving end of Chinese culture and migration for centuries. With its ancient empires continuing into the People's Republic of China (PROC), and its organized systems of writing and learning, China has had a great impact on Philippine culture in a way not comparable to the impact of Philippine culture on Chinese culture (of which little is known).
APPFI Events
China's Nine-Dash Line Ambiguity Confuses Regional Oil Industry: Analysts
ASTORIA PLAZA, Pasig City – China's nine-dash line is ambiguous, causing confusion for the energy development players from South China Sea littoral States, according to Lucio Pitlo III, a lecturer of International Relations at the De La Salle University and of the Chinese Studies Program of Ateneo de Manila University, at a roundtable discussion on oil and gas.
APPFI, UP IMLOS hold Roundtable Discussion on Fisheries in the South China Sea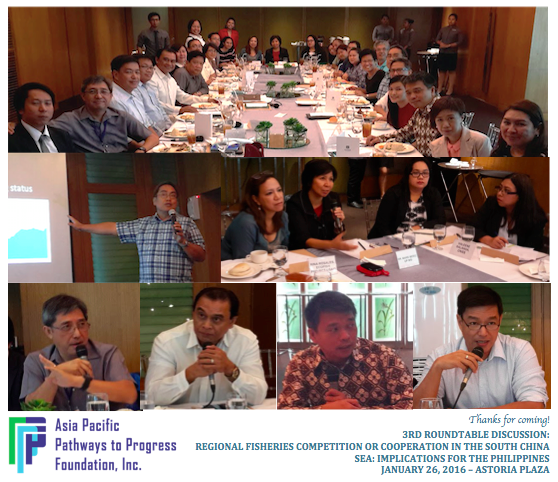 PASIG, Philippines – The Asia-Pacific Pathways to Progress Foundation, Inc. (APPFI), in partnership with the University of the Philippines Institute of Maritime Affairs and Law of the Sea (UP IMLOS), gathered academics, marine scientists, fisheries experts, and representatives from the commercial fisheries sector, fisherfolk NGOs, and government in a roundtable discussion on fisheries in the South China Sea (SCS) last January 26 at the Astoria Plaza in Pasig City.
UP Graduate Students Hold Exchanges with Guangzhou Counterparts
Last December 18-24, 2015, seven students from the University of the Philippines whose research interests focus on China embarked on a study tour in Guangzhou, China. The group included APPFI staff Florence Principe and Philip Alegre. The delegation was organized by the Chinese Culture and Society class under Dr. Tina Clemente, in partnership with Jinan University and Sun Yat Sen University.
APPFI Officers Meet PRC Ambassador Zhao Jianhua
Officers and trustees of the APPFI met with Chinese Ambassador Zhao Jianhua at a dinner last February 24 held at the Jinjiang Inn in Makati. The ambassador was accompanied by Political Counsellor He Xiangqi, Director Yu Jun and Second Secretary Chen Qingjie. Aside from its trustees, APPFI's senior advisers Dr Cesar Virata and Mr Alfonso Uygongco, as well as friends from the private sector were invited for the lively conversation. The dinner was organized upon the initiative of APPFI and was hosted by Special Envoy to China Mr Carlos Chan.
Lotilla, Baviera attend Second Workshop of CSIS-Indonesia and China's NISCS held in Hainan
The second workshop of the initiative "Partnership for Regional Peace: Operationalising ASEAN-China Comprehensive Strategic Partnership in Southeast Asia" was held in Hainan, China from 17-19 January 2016. Organized by two think tanks - the Center for Strategic and International Studies of Indonesia and China's National Institute for South China Sea Studies (NISCS) – and supported as well by Singapore's S. Rajaratnam School of International Studies, this meeting follows an initial workshop held last September in Jakarta.
Board of Trustees holds first meeting of the year Read more
Lectures on China and Regional Affairs Read more
Friends and Partners
The Initiative of Seven
We have previously featured scholars and institutions we consider as having shared vision and advocacies as our organization, APPFI. In this issue, we would like to introduce seven young scholars who as graduate students of the University of the Philippines have been studying and conducting research on international relations with a special focus on China.