ASEAN at Fifty: Challenges to Unity and Centrality
Details

Aileen S. P. Baviera

Commentaries
This essay was originally written for a Conference marking the 90th Anniversary of Southeast Asian Studies and Overseas Chinese Studies in Jinan University, Guangzhou, on July 15-16, 2017. Some text is drawn from the integrative chapter in a newly published volume "Building ASEAN Community: Political-Security and Sociocultural Reflections" (ERIA, DFA, 2017)
The Association of Southeast Asian Nations (ASEAN) turns 50 in 2017. Critics and supporters of ASEAN have much to say about the group's achievements and shortcomings since its establishment in 1967. Critics will say ASEAN has been measured and found wanting. There are too many conflicts within and among its members that remain unresolved. The principles of sovereignty and non-interference in internal affairs have been too privileged in practice, at the expense of effective cooperation and integration. Organizationally, ASEAN is too process-oriented while inadequate in achieving timely results and impact. Consensus among member-states remains shallow even on certain critical issues that require solid agreement. The absence of a common foreign policy and differences in security priorities and threat perceptions continue to stand in the way of a true political-security community, it might also be said.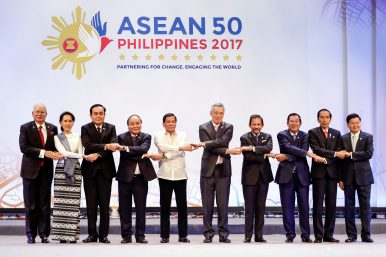 Image Credit: Reuters/Mark Crisantol
Supporters, on the other hand, will argue: were it not for ASEAN, would Southeast Asia even be as peaceful, stable, and economically progressive as it has been and still is, after several decades? Aren't the norms and practices associated with the 'ASEAN Way' for which it has often been criticized – including informality, nonconfrontation, relying on consensus-based decision making – part of the reasons the member states have remained together all these years? The fact that other countries, including big powers and non-likeminded states, choose to engage in ASEAN-led multilateral arrangements is also clear recognition of the organization's important contributions.