Editor's Note
So Near and Yet So Far: 40 Years of Philippines-China Relations
The year 2015 marks the 40th anniversary of the normalization of diplomatic relations between the Philippines and China. On June 9, 1975, Ferdinand Marcos, accompanied by his family members and Cabinet officials, together with Chinese Premier Zhou Enlai, signed the Joint Communique establishing diplomatic ties. This important occasion was held at the hospital where Premier Zhou, seriously ill prior to his death just seven months later, was staying.
APPFI events
Analysts, business groups assess Phil-China trade & investment relations
The forum's objective was to provide a platform to assess whether and in what ways political tensions arising from the West Philippine Sea disputes were affecting economic ties, particularly Philippine exports to China and Chinese investments in the Philippines. The participants shared on-the-ground experiences, including private sector concerns on the matter. Aside from addressing problems and prospects in economic relations, special topics such as the impact of China's Asian Investment Infrastructure Bank (AIIB) and the Maritime Silk Route Initiative were also discussed.
APPFI convenes workshop series to discuss China Impact on Ph economy

MAKATI, Philippines – Philippine policy leaders from various sectors met for a series of high-level Consultation Workshops on China's impact on the Philippines and ASEAN, organized by the Asia Pacific Pathways to Progress Foundation, Inc. (APPFI) and the Asian Institute of Management ASEAN 2015 Project. The workshops took place from March to June this year and were held at the AIM in Makati.
Roundtable on Chinese tourism in the Philippines "Are we losing the Chinese Market? Philippine Tourism at a time of Diplomatic Doldrums"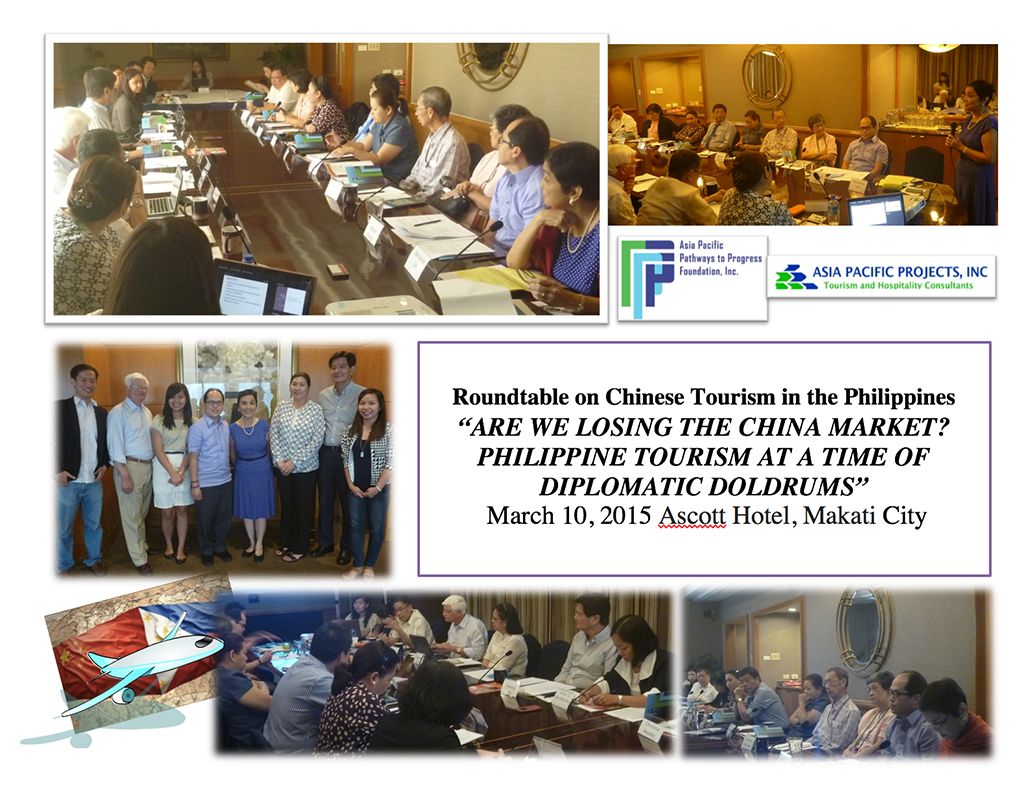 The Asia Pacific Pathways to Progress Foundation, Inc. (APPFI), in partnership with Asia Pacific Projects Inc. (APPI), a tourism consulting company, organized a roundtable titled "Are we Losing the Chinese Market? Philippine Tourism at a Time of Diplomatic Doldrums" on March 10, 2015 at the Ascott Hotel, Glorietta 4, Makati City.
APPFI and UP CIDS cooperate on seminar on Philippine Studies for Chinese researchers
QUEZON CITY, Philippines – Asia Pacific Pathways to Progress Foundation, Inc. in support of the University of the Philippines Office of the President and the Center for Integrative and Development Studies, helped organize a 10-day Seminar on Philippine Studies for Chinese Researchers last August 17 – 26, 2015 held at GT Toyota Asian Center, University of the Philippines Diliman.
Commentaries
President Xi's US state visit: Implications for US security alliance system in the Asia-Pacific
Lucio Pitlo III
There was much expectation that recent developments in the South China Sea (SCS) and their potential implications for regional security in the Asia-Pacific would be among the key issues to be discussed during the recently concluded state visit of Chinese President Xi Jinping to the US. However, a review of the post-visit official statements and releases from the two sides revealed no references to the said subject. It became apparent that there was a deliberate effort by both sides to downplay the importance of the issue. In stark contrast, there was much discussion of economic relations and climate change and a joint presidential statement on the latter was even issued. While there was mention of maritime concerns, it was in the context of a larger strategic cooperation for ocean and polar research and conservation, and in relation to military and coast guard confidence building measures. Given the expectations from America's mutual defense allies in the Asia-Pacific region, including the Philippines, that President Obama will call China out over its recent activities in the SCS, the non-mention of the SCS in official post-visit issuances may send unwelcome signals to other claimant states and security allies, and impact adversely on the US' image as a security partner for the region.
China Prospects: From bullish to cautious optimism
by Mr. Sergio R. Ortiz-Luis Jr., President of PHILEXPORT
Allow me also to express PHILEXPORT's honor and pleasure to welcome you all and to co-organize this timely and important roundtable discussion of Philippine-China trade and investment relations. The Philippine Exporters Confederation, Inc. or PHILEXPORT and APPFI have the common thrust, among others, of promoting development through dialogues and cooperation projects. Acknowledging China as an important trade and investment partner, we thought that this discussion will be a relevant contribution to easing and/or mitigating possible economic impacts that the current political tension maybe creating on the trade relations of both countries.
Profiles
Towards Peace and Understanding: An Interview with Dr. Li Kaisheng
It was a pleasant morning as I walked to the agreed meeting place. I was running late by a few minutes due to the morning traffic congestion so I walked hurriedly, hoping that my interviewee would have also been delayed by the slow flow of traffic. As I got nearer the rendezvous point, I saw a man with a dark blue polo shirt tucked in his jeans seemingly waiting for someone. He was in his usual casual 'professor-look' and as he saw me, he waved, smiled, and stood up to shake my hand.