Editor's Note
2017 hopes to mark a meaningful year in Philippine diplomacy, especially in relation to our immediate neighborhood in Southeast Asia. As ASEAN chair this year, the Philippines presides over the celebration of the Association's 50th anniversary.
These are very challenging times for Southeast Asia, indeed. Domestic political troubles preoccupy many of the member states, even as global economic trends dampen development prospects, and broader geopolitical shifts are creating much uncertainty.
Aside from its efforts to build regional solidarity around shared socio-economic goals, ASEAN's major contribution has all along been as a multilateral platform for the promotion of regional peace and stability among member states, and for inclusive dialogue and cooperation involving small and great powers alike. Thus, its positive impact has been felt far beyond Southeast Asia itself, notwithstanding its many shortcomings.
2017 also marks the 10th anniversary of the signing of the ASEAN Charter, an instrument which not only bestowed juridical status on the grouping of ten nations, but enunciated forward-looking norms and higher-order aspirations that the countries agreed to strive for collectively and cooperatively. This year should rightfully be a time for celebration of ASEAN's gains, but also a time for reflection, introspection, self-criticism and self-correction, if need be. Given ASEAN's flat, egalitarian, leaderless structure, a larger share of the responsibility for this will fall on the Philippines as this year's Chair.
President Duterte's visits to ASEAN member states from September to December last year were part of the preparations, writes Grace Guiang in her article for this edition of APPFI's newsletter. Florence Principe argues that ASEAN can be a good platform for the Philippines to promote the new administration's development and security agenda, while Philip Alegre raises concerns about how the Philippines can contribute to the uncertainty for the region because of its policy twists and turns.
Given the prominent role the Philippines has played on the matter of maritime disputes in the South China Sea through the last several administrations, many regional observers will watch closely how this will figure on the agenda of this year's summits and consultations with dialogue partners, under Duterte's watch.
In this newsletter, Baviera posts reflections about the folly of trying to erect fences on the ocean that states are ready to defend as sovereign territory. She laments the lack of solutions to the disputes, and the fact that territorial tensions have in fact escalated into broader geopolitical contests involving the great powers. Pitlo, on the other hand, problematizes how power asymmetry affects the interests, discourses and strategies of small and great powers in the South China Sea. Find out what they say and let us know what you think by posting comments on our Facebook page.
APPFI congratulates as well as bids farewell to its long-time partner and recently appointed APPFI Fellow Mr. Chito Sta. Romana, who will soon take up the post of Philippine Ambassador to China. We wish him well not only because of his constant support for and dedication to the goals which inspire APPFI, but more importantly because we wish the Philippines well, and we wish Philippines-China relations well during these trying times. His success in this new endeavor will be measured by what he can contribute for the good of the country and good for the cause of peace. In this issue, we feature a re-post of his profile as well as an interview on how he views Chinese foreign policy directions and their implications for the Philippines and the region.
Commentary
Can Anyone Really Rule the South China Sea?
Aileen SP Baviera
Countries jockey for control as if oceans could be tamed, claimed and fenced off like the land.
Wherever you go in the Philippines, the sea is never too far away.
I spent summers as a child lying on sunny beaches and playing in the waves. Sometimes we would go to an island where the white sand, framed by coconut trees, was uninterrupted save for the bleached driftwood filled with tiny crustaceans popping in and out of their burrows. Getting there required a 90-minute journey on a tiny boat with outriggers.
---
Of Claims And Freedoms: Diverging Perspectives on the South China Sea
Lucio B. Pitlo III
Power differentials between states affect how they view and respond to the South China Sea disputes. Small powers largely see them as a clash of unilateral territorial and maritime claims over all or part of the semi-enclosed sea, whereas big powers frame them in a more strategic manner – a contest for control over a critical international waterway. Small powers focus on immediate and direct concerns like resource access, whereas big powers stress universal freedoms of navigation and overflight. Lumping claims and freedoms together muddles and complicates the resolution of South China Sea disputes. Disaggregating them, however, may allow for opportunities to tackle part of the dispute separately.
APPFI News
APPFI Holds Symposium 'In Search Of A China Strategy'
QUEZON CITY – 'In Search of a China Strategy' was the theme of a recently concluded symposium organized by the Asia Pacific Pathways to Progress Foundation, Inc. (APPFI) at the GT-Toyota Auditorium, UP Diliman last August 17 and 18.
---
APPFI, UP Asian Center cooperate in facilitating Chinese think tank exchanges with Philippine government agencies
Last September 12-13, 2016, Asia Pacific Pathways to Progress Foundation Inc. (APPFI) partnered with the University of the Philippines Asian Center in hosting a delegation of four scholars from the China Institutes for Contemporary International Relations (CICIR). The delegation visit is a part of the Memorandum of Agreement between UP and CICIR in 2014, aiming to intensify and reap the benefits of academic and Track 2 diplomacy exchanges. Dean Joefe Santarita of the Asian Center delivered welcome remarks. This is the first exchange between the university and the Chinese think tank after the release of the arbitration results regarding the maritime claim overlaps of the two countries in the South China Sea. It will be recalled that the arbitral tribunal last July 12 issued an award that was perceived to largely favor the Philippines, and which China has said it would not accept.
---
Launch of the APPFI Carlos Chan Fellowship Program and Track Two Observer
As part of its efforts to support individuals who help promote peace, development and cultural understanding through research, the Asia Pacific Pathways to Progress Foundation Inc. has set up the APPFI Carlos Chan Fellowship Program. The program has been named after Mr. Carlos Chan in recognition of his accomplishments and efforts in promoting greater intercultural understanding and cooperation in Philippines-China relations. Mr. Chan is former special envoy to China and one of the most successful Filipino entrepreneurs in the region, having established overseas operations in China, Cambodia, Indonesia, Myanmar, Thailand, Vietnam, and India.
---
Interview with Rappler:  Fresh Start for Philippine-China Relations
In light of recent changes in Philippines-China relations brought about by the election of President Rodrigo Duterte, his visit to China and the conclusion of the arbitration case in the South China Sea, Rappler editor-at-large Marites Vitug interviewed APPFI President Aileen SP. Baviera. The interview focused on management of the relations between Manila and Beijing, the influence of the US alliance on their ties, possible impact of the arbitration case and Duterte's moves toward an independent Philippine Foreign Policy.
Q&A with Amb. Chito Sta. Romana
China's Complex Diplomacy and Its Challenges for the Philippines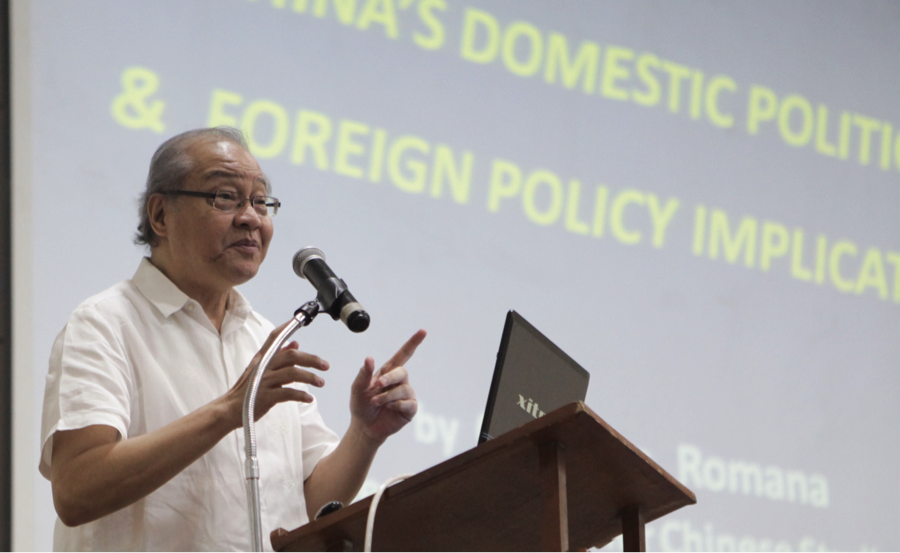 Philippine Chairmanship of ASEAN 2017
When Regional Cooperation is in the National Interest
Florence Principe
On August 8, 1967, the five founding members (Indonesia, Malaysia, Singapore, Thailand and the Philippines) of the Association of Southeast Asian Nations (ASEAN) signed the ASEAN Declaration in Bangkok, Thailand that established the organization. ASEAN was driven by the desire of the states  to cooperate in economic, social, cultural, technical, educational and other fields, and to promote regional peace and stability. The ASEAN is grounded on the principles of mutual respect, non-interference, non-coercion, renunication of the use of threat or force, peaceful settlement of disputes and cooperation as declared under the Treaty of Amity and Cooperation. In later years, ASEAN was joined by five more countries namely, Brunei, Vietnam, Laos, Myanmar and Cambodia.
---
Duterte Tours Asean in Preparation for Chairmanship
Grace Guiang
Philippine President Rodrigo Duterte's series of foreign trips this year concludes with the Cambodia-Singapore leg, making Myanmar the only remaining ASEAN country to be visited.
---
The Philippine Role in Asean's Uncertain Future
Philip Vincent Alegre
Six months have already gone by of President Rodrigo Duterte's administration. The Southeast Asian region is left with questions as to what the future might hold when the Philippines takes the rotating chairmanship of ASEAN in 2017. Since President Duterte took office on June 30 of this year, he has issued, and his aides have retracted, several foreign policy pronouncements concerning the big powers in the region – China and the United States  -- that could impact on ASEAN.