Q & A with Jose Santiago "Chito" Sta. Romana, former journalist, lecturer, and ambassador-designate
to the People's Republic of China.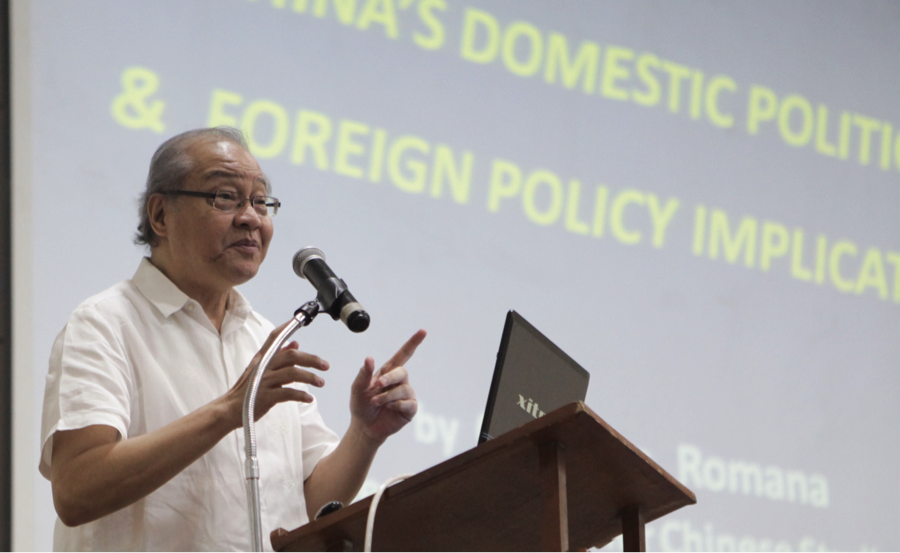 Photo taken during In Search for a China Strategy, a symposium organized by Asia Pacific Pathways to Progress Foundation Inc. and UP Asian Center last August 17-18, 2016.
[NOTE: The answers to this Q & A draw in large part from a published article by the interviewee, titled "China's Foreign Policy and the Territorial and Maritime Disputes Between the Philippines and China", which appeared in A Quest For Regional Solutions: Challenges And Prospects For Conflicts In The South China Sea. Benedikt Seemann and Marie Antoinette De Jesus, Eds. Makati City: Konrad Adenauer Stiftung, 2016, pages 36-49.]  
IN YOUR VIEW, WHAT IS THE ROOT CAUSE OF THE PROBLEMS BETWEEN CHINA AND THE PHILIPPINES IN THE SOUTH CHINA SEA?
The root cause of the problems between the Philippines and China has to do with the territorial and maritime disputes between the two countries. There are several dimensions to these disputes: the first is the issue of territorial sovereignty and the competing claims between the two countries over Scarborough Shoal and some maritime features in the Spratlys.
The second is the issue of maritime rights and jurisdiction:  the status of these contested islets, rocks and shoals, and their respective maritime entitlements, if any, and the competition for economic resources, such as fisheries, oil and natural gas, in the surrounding waters.The third is the mode and basis of resolving the territorial and maritime disputes: whether to resort to bilateral negotiations or a multilateral approach, whether to use legal or political means for dispute resolution, and whether to accept or reject the tribunal award. This also involves the issue of how to find a way forward when there is a basic difference in attitude between the two sides towards the tribunal award.
The fourth is the issue of geopolitics, which complicates the bilateral territorial and maritime issues since the Philippines is a treaty ally of the United States. Which of the two powrs – China or the U.S. – will dominate and control the strategic sea lanes and air space in the South China Sea? Which one will be the dominant power in Southeast Asia or the Pacific region?
WHAT DRIVES CHINESE FOREIGN POLICY IN THE SOUTH CHINA SEA? DOES CHINA WANT TO DOMINATE ITS NEIGHBORS?
When Xi Jinping came to power in November 2012, he articulated his vision of the "Chinese dream" (Zhongguo meng) of "national rejuvenation" and set forth "two centenary goals": first, to double China's 2010 per capital income and gross national product in a decade and transform the country into a "moderately prosperous society" by 2021 (the 100th anniversary of the Chinese Communist Party's founding); and to further transform China into a "modern socialist society that is prosperous, strong, democratic, culturally advanced and harmonious," with its citizens enjoying a fairly advanced level of living standards by 2049 (the 100th anniversary of the establishment of the People's Republic). 
President Xi Jinping speaks of the "Chinese dream" as the overarching theme of his administration with the aim of achieving a Chinese renaissance and transforming the country into a major regional and world power and enabling China to regain its former preeminent position in Asia. 
To achieve these goals, China will need a peaceful international environment and avoid the outbreak of a major war. Hence, the Chinese government states that it has a foreign policy of peace and development that includes promoting "friendly relations and…mutually beneficial cooperation with neighboring countries" and seeking "a community of common destiny" with them. 
But there is another aspect to China's foreign policy—its avowed determination to defend its "core interests" (or hexin liyi in Chinese). It is this aspect that drives China's moves to assert its territorial and maritime claims in the South and East China Seas.
WHAT ARE THESE CORE INTERESTS OF CHINA?
 In a White Paper on China's Peaceful Development issued in 2011 by the Chinese government, 6 core interests were listed: (1) state sovereignty; (2) national security; (3) territorial integrity; (4) national reunification; (5) China's political system established by the constitution and overall social stability; and (6) basic safeguards for ensuring sustainable economic and social development. 
Xi Jinping placed the defense of China's "core interests" as a key plank of the country's foreign policy. As Xi expressed it at a Politburo study session in January 2013, "No country should presume that we will engage in trading our core interests or that we will swallow the 'bitter fruit" of harming our sovereignty, security, or development interests".
He reiterated this point in another speech:  "China will adhere to the path of peaceful development but in no way will the country abandon its legitimate rights and interests, nor will it give up its core national interests".
It is evident that Xi considers China's territorial claim over islands in the South China Sea as part of its "core interests" of sovereignty and territorial integrity.
 As China seeks to realize its goal of "national rejuvenation" and overcoming its "century of humiliation," it views the recovery of territories lost when it was still weak as a necessary goal of its "Chinese dream." Thus, China's South China Sea policy flows from Xi Jinping's goal of transforming China into a great power and restoring its status as a major, if not dominant, player in Asia and the world.
The challenge for China is how to balance these two seemingly contradictory aspects of its foreign policy—peaceful development and defense of core interests—in order to achieve the "two centenary goals" of Xi Jinping's "Chinese dream."
IS XI JINPING LIKELY TO SUCCEED IN ATTAINING THE "CHINESE DREAM"? LIKE THE PHILIPPINES, THEY APPEAR TO HAVE MANY DOMESTIC PROBLEMS, SUCH AS CORRUPTION, FOR INSTANCE.
Corruption has been a key concern of Chinese citizens, topping the list of complaints in public opinion surveys. Thus, Xi's anti-corruption campaign easily garnered popular support despite initial skepticism about the prospects of its success. Anti-corruption campaigns have been carried out in the past but their impact was somehow limited, thus giving rise to an expression that has captured the public sentiment—"they are simply swatting flies but not catching the tigers." 
But Xi's high-profile campaign against corruption proved to be more extensive in scale than previous ones. What is noteworthy is that the campaign resulted in the unprecedented investigation, detention or sentencing of several big "tigers". However, the anti-corruption campaign not only became an important instrument for Xi to win popular support for his regime and boost the legitimacy of Communist Party rule; it also became a powerful weapon to eliminate or neutralize his political enemies and rivals and consolidate his own grip on power.
Indeed, while Xi Jinping has become the most powerful leader since Deng Xiaoping, he also faces a number of serious domestic challenges, ranging from an economic slowdown, endemic corruption, a glaring income gap, environmental pollution, and mounting social protests, among others. These challenges, particularly the slowdown in economic growth, pose serious risks to Xi's ability to achieve his strategic goals.
WILL AN ECONOMIC SLOWDOWN, SUCH AS WHAT WE ARE SEEING NOW, AFFECT THE ASSERTIVE POSTURE THAT CHINA HAS SHOWN IN RECENT YEARS?
China's economic performance will play a critical role in Xi Jinping's strategic calculus because economic development and the improvement of people's living standards constitute a key pillar in winning public support for his leadership and continued Communist Party rule. The other two pillars that support the regime are nationalism and the PLA: Chinese nationalism arouses a sense of patriotism, mobilizes national unity, and rallies popular support for the party and government —as embodied in Xi's vision of the "China dream" —especially at a time when Marxism-Leninism and Maoist ideology have lost their ideological appeal; while the PLA serves as the bulwark of defense against internal and external threats.
It was China's growing economic strength over the past three decades that laid the basis for its military modernization.
Another major element in Xi Jinping's "Chinese dream" is the goal to turn the country into a maritime power. China's economy will have to succeed in finding other sources of growth in order to provide the material resources needed to transform the nation into a modern maritime power.
If the economic slowdown persists and impacts on China's fiscal situation, China will face the "guns versus butter" dilemma in deciding how to allocate its resources. And it is a distinct possibility that China's defense budget could be adversely affected. This scenario will likely have a negative impact on China's military modernization, including its military posture in the South China Sea. But this will depend on China's priorities and military modernization could survive any budgetary cuts if the government decides to cut elsewhere instead of defense.
It also cannot be ruled out that China's leadership will resort to a calculated use of limited force in the South China Sea in order to shore up nationalist support when faced with a severe domestic crisis and/or strong international pressure. 
WHAT CAN YOU SAY ABOUT XI JINPING'S STRATEGIC INITIATIVES SUCH AS THE ASIAN INFRASTRUCTURE INVESTMENT BANK AND THE SO-CALLED 21ST CENTURY MARITIME SILK ROAD?
China established the Asia Infrastructure Investment Bank and provided more than 30% of the bank's equity of USD 100 billion. It also unveiled a plan for a "New Silk Road" with its two components—the "Silk Road Economic Belt" connecting Western China to Central Asia and Western Europe, and the "21st Century Maritime Silk Road" connecting the Southeastern Coast of China to the Middle East and Europe via the South China Sea, Malacca Strait, Indian Ocean, Red Sea, and the Mediterranean Sea. 
China's top leader Xi Jinping said the "New Silk Road" project will be backed by a USD 40 billion fund to finance infrastructure projects such as roads, ports, highways and railways in countries along the route. Chinese Premier Li Keqiang also announced in November 2014 an offer of a USD 20 billion China-ASEAN fund for infrastructure projects and industrial cooperation.
These recent initiatives appear to signify a tactical shift as China seeks to revive the use of "soft power" by leveraging its economic resources in support of its diplomacy towards its neighboring countries.
These moves are in a sense also part of China's response to the U.S. "pivot'' to Asia, which has resulted in the deployment of more U.S. military assets in the region, strengthening of existing alliances and building up of new partnerships. The U.S. "rebalancing" strategy, according to some U.S. analysts, is itself a response to the growth of Chinese power, and it clearly signals the U.S. resolve to maintain its dominance in Asia.
DO YOU THINK ITS ISLAND CONSTRUCTION SPREE IN THE SOUTH CHINA SEA CLOSER TO THE PHILIPPINES IS INTENDED TO CHALLENGE THE U.S.? 
Chinas massive island building project is aimed at transforming its seven occupied reefs and shoal into artificial islands—a move that seeks to strengthen and consolidate China's territorial and maritime claims and undermine the Philippines' arbitration case.
The strained relations between the Philippines and China have transpired in the context of intensifying strategic rivalry between the U.S. and China. Though China has embarked on a military modernization program, the U.S. is still the dominant military power in the region at present, with its forward deployed forces in bases in Japan, South Korea, Australia, and Guam, as well as its advanced capability for power projection. But the overwhelming dominance of the U.S. since the end of the Cold War is now being challenged by the rapid growth of Chinese economic and military power .
As a result, the balance of power is undergoing a strategic shift in Asia and the existing U.S.-led unipolar regional order is eroding. The region is witnessing a strategic competition escalating between the established power—the U.S.—and the rising power—China. The emerging focus of this geopolitical rivalry is in East Asia—in particular, the South China and East China Seas, or what China calls its "near waters."
WILL THE STRATEGIC RIVALRY BETWEEN THE U.S. AND CHINA LEAD TO A MILITARY CONFRONTATION AND AN OUTRIGHT WAR? 
Some analysts from the realist school in international relations theory, like Mearsheimer, think a war is inevitable as a dominant power will not simply accept the rise of a new power, nor will it willingly yield its supremacy. 
But other analysts from the liberal school, including Ikenberry, are of the view that increasing economic interdependence together with strategic dialogues and high-level diplomacy will be able to promote understanding and cooperation, lessen tensions and prevent the outbreak of war.
At present, U.S.-China relations are indeed a mix of cooperation and competition. The cooperative aspect can be seen in the booming economic relations between the two countries. The competitive aspect can be seen in a range of issues, such as the U.S. complaints of human rights abuses in China, U.S. criticism of Chinese violations of intellectual property rights, China's complaints of U.S. maritime and aerial surveillance in its claimed exclusive economic zone or EEZ.
The cooperative and competitive elements in U.S.-China relations elements exist side by side, and though at present, cooperation still seems to be predominant in the bilateral relationship, the competitive elements are increasingly on the rise. How the situation will develop in the foreseeable future depends to a significant degree on the strategic calculations and decisions taken by the leaders of both countries.
In the long term, the question of which country will emerge as the dominant power in the future will depend on which one will have a more sustainable and stronger economy. China has a rising economic trajectory but it is currently facing serious challenges. The U.S. economy is still the world's biggest economy but it is overstretched in its international commitments and burdened by serious budget deficits and domestic political gridlock. However, it can still sustain its growth with its superior technology and its growing energy independence. It remains to be seen which one will eventually prevail. 
WHAT DO YOU SEE AS THE PROSPECTS FOR MANILA-BEIJING RELATIONS, GOING FORWARD?
With the election of Rodrigo Duterte as the new President last May, he initiated a strategic shift in Philippine foreign policy, marked by moves to improve relations with China and Russia while distancing the country from its close alignment with the U.S. under the rubric of an independent foreign policy. This new approach meant that economics and trade would be the key driver of Philippines-China relations and that the disputes would still be subject to negotiations but would not be at the front and center of bilateral ties and would be delinked from other non-contentious areas so that they will not be an obstacle to the promotion of bilateral cooperation. 
However, this paradigm shift does not mean that the Philippines will abandon its treaty alliance with the U.S. or cut off its historic and cultural ties with the U.S., nor does it mean that the Philippines will form a military alliance with China or Russia. Instead, Manila will mainly focus on promoting political relations and economic partnership with China and Russia while exploring limited military cooperation. On the whole, the goal is to reduce the historic dependence on the U.S. and seek a more balanced relationship with all the major powers, including China and Russia, while strengthening ties with ASEAN, Japan and other Asian countries.
WILL THE PHILIPPINES STILL NEED EDCA AND U.S. MILITARY SUPPORT IF THE NEW GOVERNMENT SUCCEEDS IN IMPROVING TIES WITH CHINA?
A major challenge for the Philippines is to persuade the Chinese that the EDCA is meant to strengthen the country's defensive capability and not aimed at threatening or containing China.
Looking into the near future, the prospects for Philippines-China relations will depend on whether the two sides can combine a high level of statesmanship and pragmatism to manage the disputes, lower tensions, and prevent any accident or miscalculation on one hand; and to restore normal ties and promote areas of bilateral cooperation in trade, tourism, infrastructure, investments and other fields on the other.
As for the geopolitical aspect, the geopolitical rivalry between China and the U.S. will likely continue for the foreseeable future unless the two powers can find a mutually acceptable way to effectively manage, if not resolve, their strategic differences without resorting to military confrontation.
In the meantime, the Philippines can perhaps learn from the wisdom of an old saying in Africa—"When two big elephants fight, it's the grass underneath that gets trampled upon."
Related Article: http://appfi.ph/friends-and-partners/1142-jose-santiago-chito-sta-romana-veteran-journalist-and-china-analyst