Can the bells' return ring back PH-US ties?
Details

Lucio Blanco Pitlo III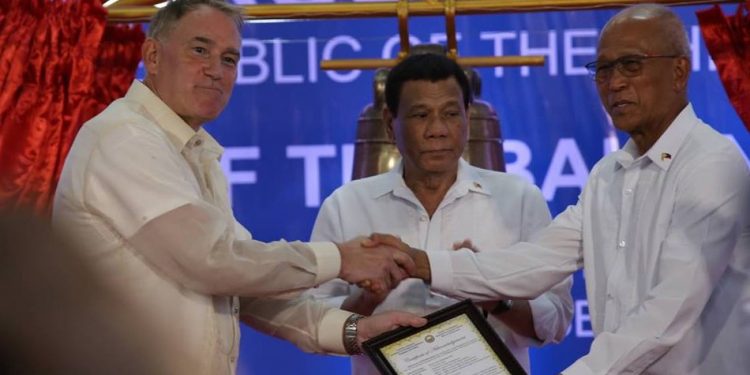 President Duterte during the ceremonial transfer of Certificate of Authority from US Deputy Chief of Mission John Law to Defense Secretary Delfin Lorenzana. Source: US-PH Society
The much-awaited homecoming of the three Balangiga church bells signify United States' resolve to reset relations with its former colony and longtime ally. Philippine President Rodrigo Duterte's tirades against the West and efforts to diminish the country's over reliance on America by expanding ties with other major powers, including U.S. rivals China and Russia, unsettled bilateral relations since 2016. The U.S. obviously wants to check Philippines' increasing tilt towards Beijing and the bells' repatriation, albeit symbolic and long overdue, is a clear and solid step towards this. Nonetheless, while such a hallmark move is welcome, it may have marginal effect in countering the core of burgeoning Philippines-China ties which remain firmly grounded on economic convergence. Instead, the bells' return will have greater utility as a platform to restore high-level political ties and cement U.S. position as Manila's pre-eminent security partner, a position being challenged by Beijing's foray into security goods provision.