In March, U.S. Secretary of State Mike Pompeo visited Manila, the capital of the Philippines. Publicly, and in no uncertain terms, he declared that the United States would honor its commitments under the Mutual Defense Treaty (MDT) should any Philippine vessel or aircraft be attacked anywhere in the South China Sea. Pompeo's comments came amid uncertainties with respect to the alliance under Philippine President Rodrigo Duterte, including talk of a potential review of the alliance. Though international focus was on the U.S. commitment itself and its significance, Philippine responses to Pompeo's comments were more mixed due to a range of factors and in spite of Washington's best efforts to boost collaboration with Manila. But beyond this, the hope is that Pompeo's commitment will jumpstart a broader effort by the two allies to reinvigorate the U.S.-Philippine alliance in the coming years.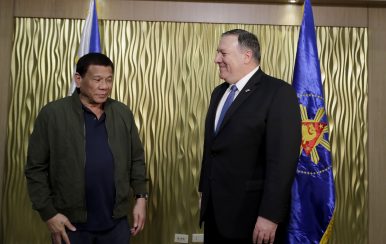 Photo Source: The Diplomat
The State of the U.S.-Philippine Alliance
While there is often a focus on the troubles of the U.S.-Philippine alliance under Duterte, some of the more prominent issues in the alliance date back decades. Among these issues were repeated – and unsuccessful – Philippine attempts to extract a U.S. commitment to protect its South China Sea claims.
Continue reading the rest of the article at The Diplomat.
---