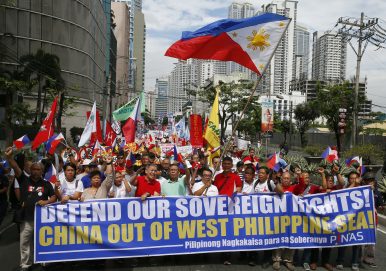 In his most provocative statement yet, Philippine President Rodrigo Duterte urged China to stay away from a Philippine-controlled island in the South China Sea: "I am asking you, I will not plead or beg, but I'm just telling you, lay off the Pag-asa because I have soldiers there. And if you lay a finger on them, it's another story. I will tell my soldiers, prepare for a suicide mission." 
Known for his pro-China overtures, Duterte's warning came as quite a shock. Since assuming power in 2016, Duterte launched a radical shift on the Philippines' South China Sea policy — downplaying a favorable 2016 arbitration ruling, threatening to scrap joint maritime patrols with the United States, and pursuing joint oil and gas exploration — that saw Manila cozying up with Beijing, amid overlapping territorial claims. Acting out of sheer pragmatism, Duterte aimed to strike a compromise with Beijing rather than embroil the Philippines in a war against China, which it cannot win.
Yet China might have crossed the line. Following the report from the Philippine Western Command on the sustained presence of 275 Chinese maritime militia vessels since January, Duterte warned: "Let us be friends, but do not touch Pag-asa Island, otherwise, things would be different," he said.
---
Mark Manantan is a research fellow at the Center for Southeast Asian Studies in Taipei. He is also a research affiliate of Manila-based think tank, Asia Pacific Pathways to Progress. Views expressed are entirely personal. Twitter: @markbryman
To view  the rest of this article, please visit The Diplomat.