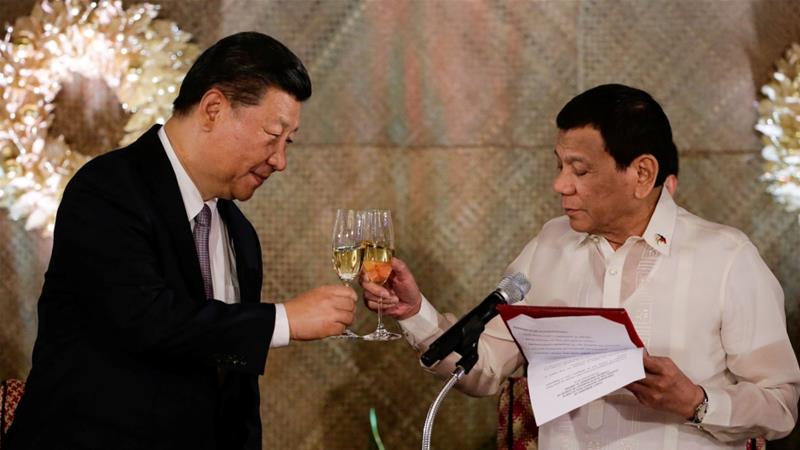 Photo Source: Aljazeera
The revitalized relations between the Philippines and China can be attributed to President Rodrigo Duterte's foreign policy shift. The warm bilateral ties is a sharp contrast to the frozen relations during the previous administration of Benigno Aquino III. Duterte opted for a more accommodating approach towards China that led to a dramatic turn in the bilateral ties--- from a confrontational stance to a more amiable outlook.
Proof of these renewed relations were the exchange of state visits by the two countries' leaders. Duterte visited China early into his presidency in October 2016, while President Xi Jinping visited the Philippines in November 2018. Xi's latest trip was the first state visit by a Chinese president to the country in 13 years, solidifying both countries' restored trust and confidence.
Compared with Aquino's legalistic and confrontational stance, Duterte adheres to a more pragmatic policy that resulted in cordial relations with China. He departed from his predecessor's defiance against Chinese assertiveness in the West Philippine Sea and downplayed the country's arbitration victory, while amassing various economic concessions in the process. This policy shift reflects Duterte's priority of implementing his administration's economic development agenda rather than the nation's maritime security interests. He deemed that focusing more on the trade and economic aspect of the bilateral relations would ultimately benefit the Filipino people more, rather than insisting on the country's maritime rights that it cannot enforce.
These developments encourage more constructive engagement under the Duterte administration. The Philippines is seeking to benefit from China's major diplomatic ventures such as the Asian Infrastructure Investment Bank (AIIB) and the "One Belt, One Road" or the Belt Road Initiative (BRI). These also fit perfectly with Duterte's "Build, Build Build" program that embarks on an ambitious infrastructure spending set to advance the Philippine economy. For China, such initiatives will further elevate its economic influence in the region while neutralizing its bellicose image in asserting its maritime claims.
While Duterte's accommodating policy may have gained the good will of the Chinese government, it has however caused some anxiety among the Filipino public. For one, critics regard the upsurge of economic investments from China as a quid pro quo or compensation for the Philippines' more lenient stance on maritime issues. They raised concerns over the Duterte administration's geopolitical and maritime concessions with China when it granted a permit in January 2018 allowing a Chinese vessel to conduct research in the eastern seaboard of the Philippines, including Benham Rise, over which the country has sovereign rights. And while Filipino fishermen are allowed to continue with their normal operations in the Scarborough Shoal (though under close watch by the Chinese Coast Guard), China's land reclamation and militarization activities continue, including the deployment of anti-ship missiles, surface-to-air missiles, and the landing of its bomber aircraft in the disputed South China Sea.
Moreover, because of wide perceptions that Duterte has prioritized his economic agenda over maritime interests, Chinese investments in the Philippines consequently gained close public scrutiny. During Duterte's state visit to Beijing in October 2016, both countries signed 27 deals worth USD 24 billion in Chinese investments. Two years after, barely any projects have materialized; though there should not be any expectations that major infrastructure ventures such as ports, railways, and transportation, shall have finished or be nearing completion.
Arguably, there are reasonable explanations behind the slow progress of these Chinese-funded projects. Some of these projects were cancelled due to questions concerning commercial viability, as in the case of raising islands in Davao City to create a new port. Some of them were put on hold, as in the case of mining projects between Chinese and Philippine mining companies due to a moratorium on new mining operations. There are also issues over the absence of specific timelines in project implementation, the dubious track record of partner Filipino companies, and the lower actualization rate of Chinese foreign direct investment pledges compared with Japan and the US.
Ideally, these issues should be dealt with first before signing another set of bilateral agreements and investment deals. This is particularly critical as both countries are expected to further deepen their economic engagement during the Duterte administration. The latest state visit of Xi Jinping in Manila last November resulted in 29 signed bilateral agreements. These deals are expected to generate increasing public clamor for accountability, efficiency, and transparency in each of the projects with China.
As the Philippines under Duterte seeks to minimize its maritime claims in order to maximize some economic benefits, China in contrast enjoys a win-win situation. The Chinese government is able to push for both its economic interests and security agenda. As it gradually consolidates its power, China is employing its "assertive benevolence" to promote its economic interests in the Philippines and at the same time, suppress any succeeding opposition from the country regarding its territorial assertions in the South China Sea.
For now, the Duterte administration continues to revel in the Philippines' robust engagement with China both in the political and economic spheres. The general perception is that Duterte's amiable stance reflects his calculating and pragmatic approach, and may appear to be a very opportunistic economic tactic. Such foreign policy adjustment also reveals his predilection that the Philippines would be better off being in the good graces of a powerful China and profit from it, rather than be the target of its wrath. This has consequently caused the temporary de-escalation of tensions between the two countries at sea, and resulted in enhanced trade ties.
Despite the positive developments in bilateral relations made possible by the Duterte administration, there are growing concerns among the Filipino public, relating to perceptions of acquiescence towards the Chinese on crucial maritime issues in exchange for major development projects in the country. These may result in increasing public demand for a firmer and more principled Philippine stance; to be both cordial yet vigilant in its relations with China. After all, there is also a significant possibility that Duterte's policy decisions may prove to be unsustainable in the long term. A change in the presidency after Duterte may again alter the course of the bilateral relations with another shift in the country's foreign policy.
---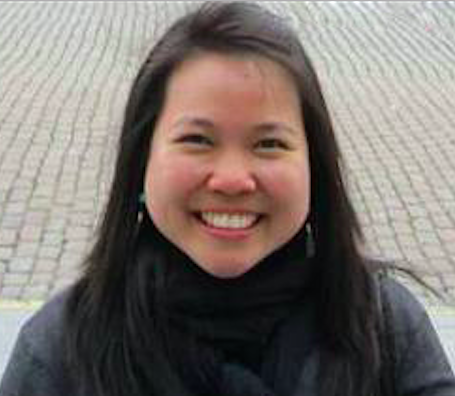 Andrea Chloe Wong previously worked as a Senior Foreign Affairs Research Specialist at the Foreign Service Institute and served as a Senior Lecturer at Miriam College.