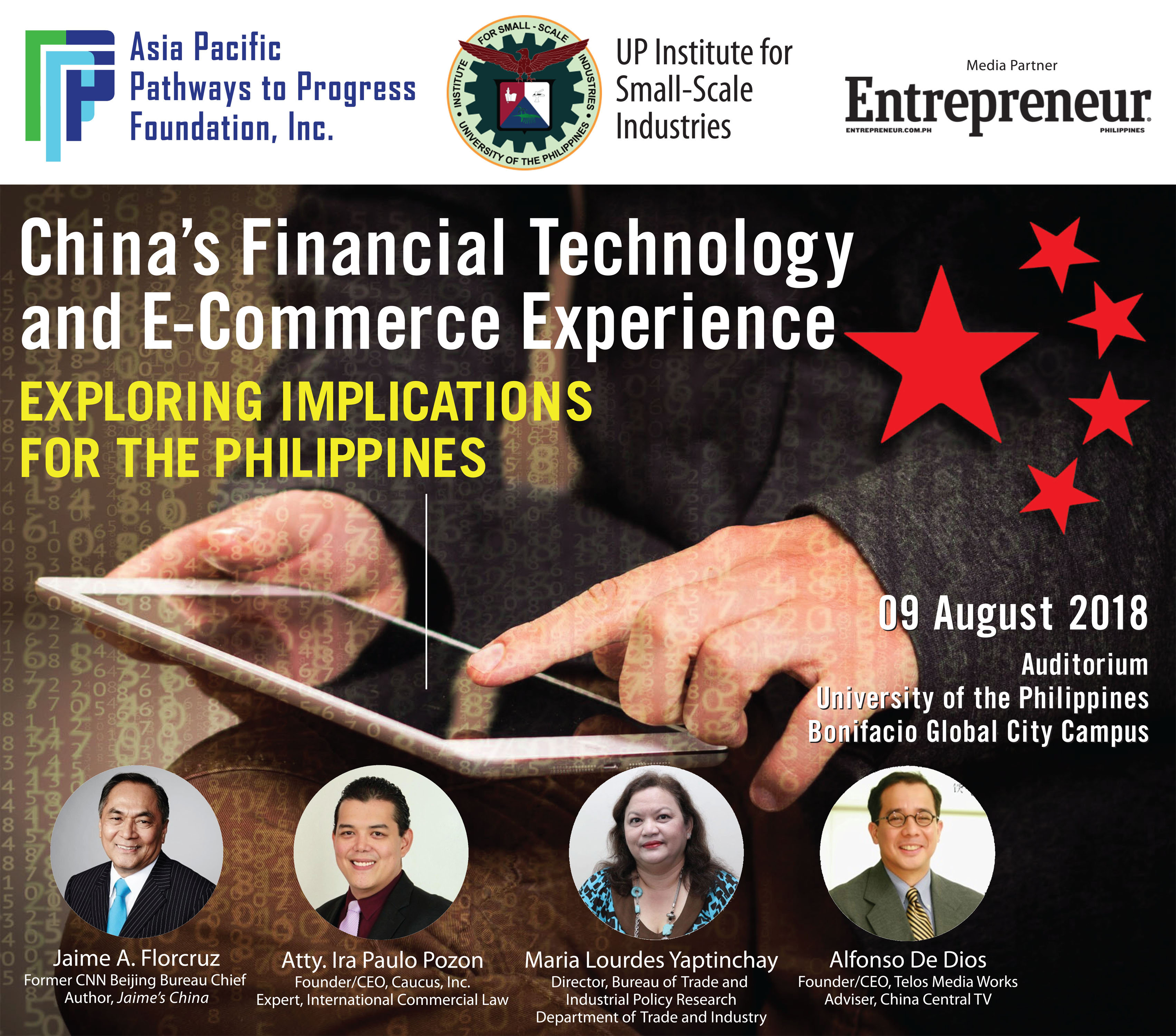 Learn more about the opportunities of the Chinese model of Fintech and e-commerce for a more inclusive economic growth and business model in the Philippines and the challenges it faces in the current economic set-up of the country.
The Asia Pacific Pathways to Progress Foundation, Inc. (APPFI), in cooperation with the University of the Philippines' Institute for Small-Scale Industries, and with the help of the online magazine Entrepreneur Philippines, will be holding a forum to explore China's Financial Technology and E-Commerce Experience: Exploring Implications for the Philippines.
Recent trends indicate that China is now the global leader in e-commerce and financial technology (Fintech), which has resulted in the rise of entrepreneurial villages, inclusive growth, innovation, technologically literacy, and employment. In connection with this, our activity seeks to explore expert answers to the following questions:
Since China is a developing country like the Philippines, how can the latter learn from the former's e-commerce entrepreneurship, especially in rural and village households?
How can the Chinese model of Fintech and e-commerce promote a more inclusive economic growth and business model in the Philippines?
Fintech and e-commerce have already gained momentum in the Philippines but are still not as advanced as China's. What are the challenges, obstacles, and areas for improvement?
In connection with our foreign economic relations, how can the Philippine and Chinese economies be further integrated by cross-border e-commerce?
REGISTRATION PROCEDURES
1. REGISTER ONLINE
Register through the online registration form by logging in at https://goo.gl/RMZCHM. Fill out the details and submit. Once you have registered online, you are already halfway through the registration process. You may register for more than one person by putting the names of the registrants on space allotted on the online form.
2. PAY THE REGISTRATION FEE
The forum has a registration fee of Php1000. You may register until slots run out. For students and government employees, a discounted rate of Php600 will be collected. Please include a photo of your IDs when you send your proof of payment. The organizers will implement a NO REFUND POLICY to all registrants.
Pay the prescribed amount by:
A. Depositing to APPFI's Metrobank Savings account
Account Name: Asia Pacific Pathways to Progress
Account Number: C/A 3617361815625
Branch: Vasra Visayas Ave., Quezon City
or
B. Online Transfer to BPI Account
Account Number: 4689-1191-37
Account Name: Florence Queen Principe
3. SEND PROOF OF PAYMENT
Take a picture of your deposit slip or screenshot of your online transfer and and send it to This email address is being protected from spambots. You need JavaScript enabled to view it. with the name you used in the online registration. Send your ID as well if you are availing of the discounted fee.
If the deposit is for multiple registrants, please state all the names in your email. Be sure the number of registrants corresponds to the amount paid.
4. WAIT FOR CONFIRMATION
Wait for the confirmation email from the APPFI Secretariat. Due to the number of registrants, the Secretariat may respond at the end of the day or the following day. In case you don't get a confirmation email, don't hesitate to call the APPFI Office at (02)455-5363.
---