With former President Donald Trump's inward-focused approach, the United States left international organizations at the sideline of its foreign policy in the last four years. Meanwhile, China embraced multilateralism - going all-out to emphasize its importance and underscoring the principles that govern international organizations. But with the new team in the White House bent in reclaiming America's place in the world, in what ways can China manage to keep up?
The Trump administration presided America's withdrawal from many of its key multilateral commitments that undergird its claim to global leadership. First, Trump pulled out from the Trans-Pacific Partnership in his first day in office. In 2017, it exited from the Paris Agreement due to the perceived unfair economic burden lopsided climate change obligations imposed on American businesses, workers, and taxpayers. Washington's departure took effect a year after it submitted its formal notification of withdrawal in 2019. The country also cut its allocated budget for the World Health Organization at the height of the Covid-19 pandemic. In the same year, U.S. legislators from both Houses considered leaving the World Trade Organization primarily out of dissatisfaction with how the body has evolved in recent years and growing concerns about China.
The absence of the U.S. naturally gave China an opportunity to raise its stakes in international organizations. China has become the second largest contributor to the United Nations general and peacekeeping budgets. The country has a number of executive positions in UN agencies, International Monetary Fund, and the World Bank. Despite criticisms of China-WHO cooperation in the investigation of Covid-19, Beijing pledged US$2 billion to assist the global health body in fighting the pandemic. Moreover, just days after the conclusion of the signing of the Regional Comprehensive Economic Partnership in November 2020, President Xi Jinping signaled China's openness to join the Comprehensive and Progressive Agreement for Trans-Pacific Partnership as well.
However, four years seems too short for major changes to make lasting impact. Just when Beijing is gaining momentum in international organizations, "America is back" came roaring as newly sworn President Joe Biden outlined his foreign policy in a speech before the State Department in February. Reiterating the key takeaways from his inaugural address, he stated that the U.S. will repair alliances and reengage the world. He affirmed that disengagement and isolation would just harm the country and its international stature. Proof that he is keen to rollback Trump's isolationism, Biden immediately signed executive orders for U.S. to rejoin the Paris Agreement and WHO on his inauguration day.
Somehow, China has anticipated America's comeback during Biden's term. But Beijing left room to express its views on its rival's return to engagement for later official pronouncements. Months leading to the U.S. elections last November 2020, Beijing's messaging has been upholding multilateralism and the protection of its principles, as well as condemning various forms of pseudo-multilateralism. These were evident in Xi's addresses at the 75th session of the UN General Assembly last September, and at the recent World Economic Forum last January. Foreign Minister Wang Yi echoed the same in several speeches. After his visit to Africa earlier this year, the top diplomat visited China's neighboring countries just days ahead of Biden's inauguration. In Southeast Asia, he impressed Beijing's priorities, interests, and role in the region. In a statement during his stop in Indonesia, Wang welcomed the return of the U.S. in multilateralism. However, he emphasized that the concept of multilateralism could be abused by advancing the interests of only a small group, turning it to an ideological divide to deepen alliances or expand coalitions, among others.
Furthermore, to recall in February 2020, the ASEAN-China Summit in Vientiane garnered attention since both 36th ASEAN Summit and of the ASEAN-US Special Summit were cancelled. Aside from boosting two-way relations, Beijing successfully brought Southeast Asian countries closer.
On the eve of the Lunar New Year, Biden and Xi had their first official phone call. Tetsushi Takahashi, Nikkei's China bureau chief, interpreted the call as a request from Xi. On the one hand, Biden brought up long-time concerns that are sensitive for Beijing: human rights issues in Xinjiang, the crackdown in Hong Kong as well as the Taiwan issue. They all remain challenges not only for China-US bilateral relations, but also for Beijing's ties with other like-minded Western countries. The new team in Washington has seen merits from its predecessor's China policy, and thus has not totally abandoned Trump's approach (Tiezzi 2021, Ordonez 2021). However, they disagree on how the previous administration went about conducting strategic competition. White House Press Secretary Jen Psaki said that the Biden leadership is steadfast in putting an end to China's economic abuses and believe that the most effective way to achieve that goal is by working with allies and partners. Nonetheless, an inter-agency review of its economic policy towards Beijing may provide a more reliable direction as to where Washington is heading.
While not being too divergent from Trump's policy thus far, a fresh start provides openings for cooperation, especially for Biden and Xi who had worked together in the past as vice presidents of their respective countries. On the same phone call, the two leaders discussed possible partnership in tackling the Covid-19 pandemic, climate change, and nuclear proliferation. Xi also proposed to resuscitate the various dialogue mechanisms the two sides had in the past. Trump set up four talks with China on diplomatic and security, economic, law enforcement and cybersecurity, and social and culture domains but each cluster only met once in 2017.
China's ability to shape international outcomes will not be a smooth ride as it will continue to face challenges and oppositions, old and new. If China wants greater influence in the manner that the U.S. wields, the country has to invest more and sustain its work not only in multilateral platforms it helped build or lead, but more importantly in established international organizations. First, China should acknowledge its areas of inexperience, learn more about them, and build on them. Beijing, for one, has used the hub-and-spokes model in terms of sending medical supplies and experts, to some extent replacing WHO, as some scholars argued. The inclusion of human security and development, as well as environmental protection, as new aspects in its multilateral engagements suggest China's growing resolve to play the role of a responsible international actor. Consistency in its efforts across platforms will reinforce its credibility.
Second, China may likewise invest in regional international organizations. For instance, the recently concluded ASEAN-led RCEP offers more room for economic integration. Another add-on to the "Noodle Bowl" of trade deals in the Asia Pacific, this deal is also seen as a milestone for being the first free trade agreement that involves China, Japan, and South Korea. Multilateral cooperation wherein the U.S. is not a member are avenues that allow China to be more proactive. This said, Beijing also has to avoid becoming the actor it criticizes—one that would abuse multilateralism for its own or the interests of a few countries. Therefore, China's messaging on the concept of multilateralism should not only be directed to Western countries but should also serve as a constant self-reminder.
But who says only China needs keeping up? The U.S. needs to pick up the pieces domestically and internationally. It has to acknowledge the changes that took place while it turned its back on the international stage, some of which cannot be easily reversed. During America's retreat, China buttressed its profile in multilateral institutions, and Sino-American bilateral relations is now set against a new backdrop vastly different from the time Biden served as second in command. In fact, Washington's strategy in dealing with China may constitute its own test of leadership.
---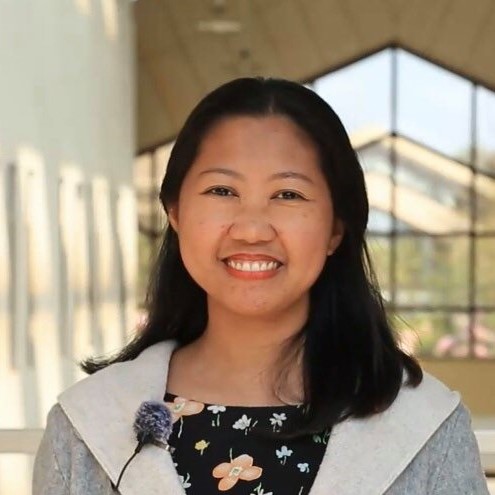 Grace Guiang is a Ph.D. student in international politics in Jinan University, China and a former Research Associate at Asia Pacific Pathways to Progress Foundation, Inc. She earned her Master's Degree in International Studies from the University of the Philippines Diliman.