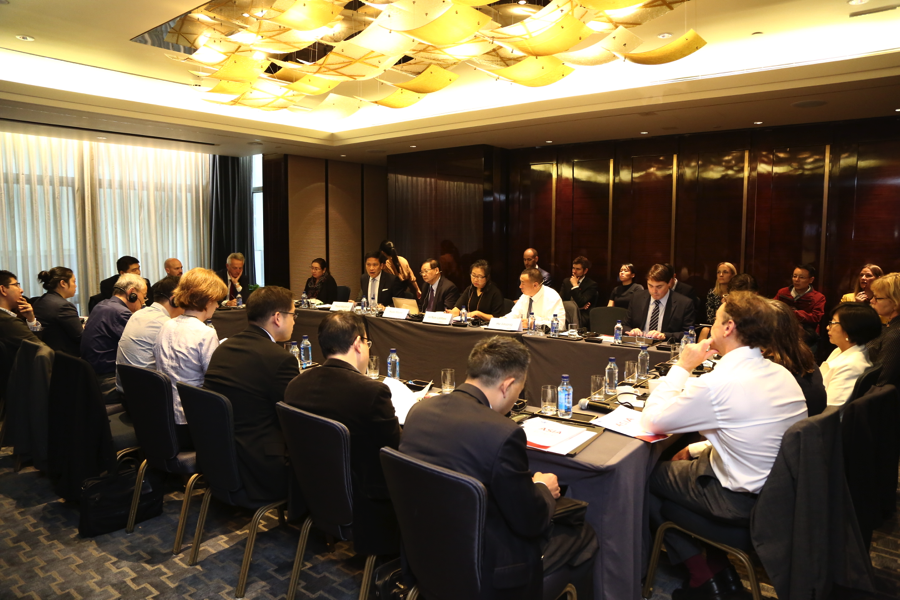 Photo from China Institute of International Studies
Pathways President Aileen Baviera and Trustee Miriam Coronel-Ferrer delivered presentations during the Asia Mediation Retreat in Beijing hosted by the China Institute of International Studies, the HD Centre for Humanitarian Dialogue, and the Royal Norwegian Ministry of Foreign Affairs.
The Asia Mediation Retreat is an opportunity for mediators, high-level decision makers, and major actors in peace processes to share their experiences, identify challenges and reflect on the practice of conflict mediation in an informal setting. It is connected with the Oslo Forum Series, which aside from an annual gathering of mediators, holds similar retreats for Africa. The last Asia Mediation Retreat was held nearly two decades ago also in Beijing. At this year's retreat, the participants held open-minded and in-depth discussions about peacemaking opportunities and challenges in Asia, Myanmar's path to peace and reconciliation, Afghanistan's way forward, and forging peace on the Korean Peninsula.
Dr Baviera shared some recent experiences of Pathways to Progress in informal mediation as a nongovernmental actor during the height of the Philippines-China territorial tensions over the South China Sea. Professor Coronel-Ferrer, who is also Senior Mediation Adviser at the UN Department of Political Affairs, on the other hand spoke about the GRP-MILF peace process at the plenary session, as well as on the role of women as peace advocates in a separate roundtable.
Over 60 officials and scholars from around the world attended the conference. Representatives from the Department of European Affairs and Policy Planning Department of the Ministry of Foreign Affairs of China, CIIS, CSCAP, CASS, AMS and YASS, Norway, the U.S., Russia, Germany, Australia, New Zealand, Switzerland, Indonesia, Thailand, the Philippines, Myanmar, Vietnam, Pakistan and Sri Lanka as well as international organizations participated.