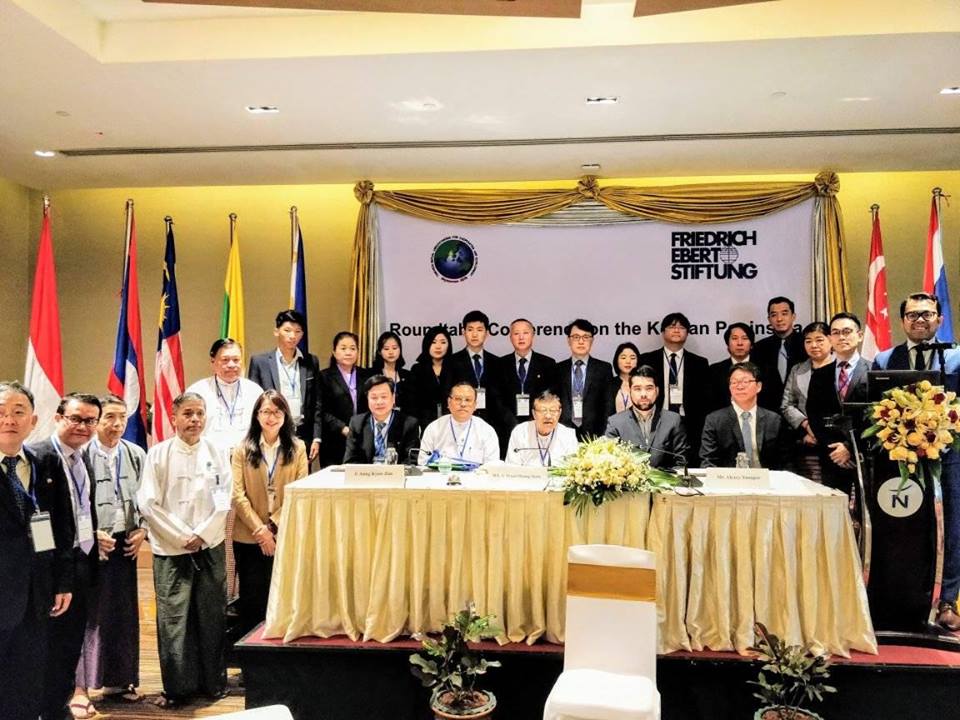 Asia-Pacific Pathways to Progress Foundation took part in a historic roundtable conference on the Korean Peninsula that gathered think-tank representatives from the two Koreas and ASEAN countries. The conference was held on December 13, 2018 at Novotel Yangon Max Hotel in Yangon. It was organized by the Myanmar Institute for Strategic and International Studies (MISIS) and the Friedrich Ebert Stiftung Myanmar.
The conference discussed recent significant milestones in efforts to promote peace and denuclearization in the Korean Peninsula, the actors and variables in the evolving drama and implications of these developments in the long-running regional flashpoint. These include the inter-Korea and US-DPRK Summits and the policies and motivations of key leaders such as ROK President Moon Jae-In, DPRK Supreme Leader Kim Jong-Un and United States President Donald Trump. The sanctions regime, DPRK's economic reconstruction, the role of China and the Kim-Xi meetings, and the disconnect in the perception of what constitutes fair reciprocal concessions were also touched. ASEAN-ISIS participants expressed their continued interest to engage both Koreas and suggested several ASEAN and ASEAN-led mechanisms as potential platforms.
It was the first time for both ROK and DPRK delegations to join a track 2 discussion with the ASEAN Institutes for Strategic and International Studies (ASEAN-ISIS). Research Fellow Lucio Blanco Pitlo III represented Pathways in the conference. Pitlo outlined the economic and security interests of the Philippines in seeing a stable and prosperous Korea. He also stressed how the Cold War and longstanding alliance with the U.S. shaped Philippine views towards the Korean peninsula, how it stunted ties with DPRK compared with its Southeast Asian neighbors, and how it sees the importance of the Korean Peninsula in regional security and stability. He noted how Pyongyang's nuclear and missile tests constituted one of the key regional and international issues discussed in the 50th ASEAN Foreign Ministers Meeting hosted by Manila in August 2017.