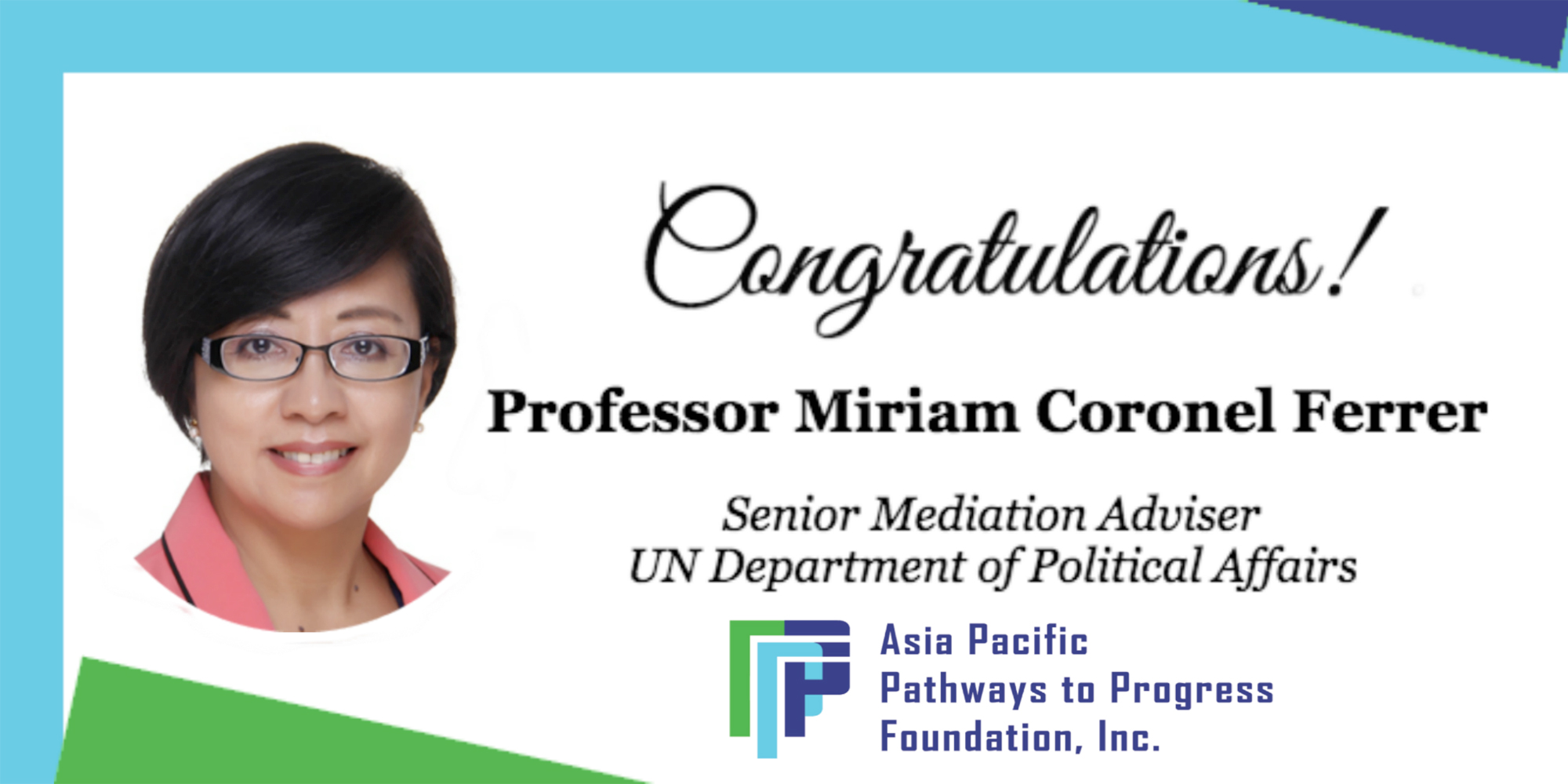 APPFI proudly congratulates its trustee, Miriam Coronel Ferrer, for her appointment as one of the Senior Mediation Advisers of the 2018 UN Standby Mediation Team under the Mediation Support Unit. The Standby Team was established in 2008 composed of full-time mediation experts that can be rapidly deployed to provide technical advice to United Nation's officials and others leading mediation and conflict prevention efforts. Team members possess expertise in a wide range of issues that tend to arise in negotiations including constitution-making, gender issues, natural resources, power-sharing, process design and security arrangements.
Prof. Miriam Coronel Ferrer headed the government panel that negotiated and signed the Comprehensive Agreement on the Bangsamoro with the Moro Islamic Liberation Front in March 2014. She is a professor of politics at the University of the Philippines where she also served as director of the Third Word Studies Center and convener of the Program on Peace, Democratization and Human Rights. She had also been visiting professor in several Asian universities.
Prof. Ferrer has published several books and journal articles on Philippine democratization, civil society and peace processes. She was founding co-chair of the Non-State Actors Working Group of the International Campaign to Ban Landmines, and was one of 27 Filipinas among the "1, 000 Women for the Nobel Peace Prize" nominated in 2005. An active peace advocate in her country, she co-led the civil society-initiated drafting of the National Action Plan on the UN Security Resolution 1325. The Philippine NAP was formally adopted by the government in March 2010. Prof. Ferrer is the first woman in the world to have signed a major peace agreement as chief negotiator. In 2015, she received the Hillary Clinton Award for Women, Peace and Security given by Georgetown University in Washington D.C.
Sources: Annual Democracy Forum, UN Peacemaker