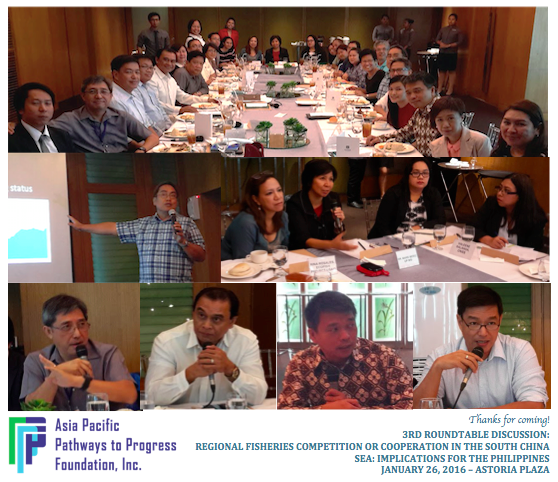 PASIG, Philippines – The Asia-Pacific Pathways to Progress Foundation, Inc. (APPFI), in partnership with the University of the Philippines Institute of Maritime Affairs and Law of the Sea (UP IMLOS), gathered academics, marine scientists, fisheries experts, and representatives from the commercial fisheries sector, fisherfolk NGOs, and government in a roundtable discussion on fisheries in the South China Sea (SCS) last January 26 at the Astoria Plaza in Pasig City.
With the theme "Regional Fisheries Competition or Cooperation in the South China Sea: Implications for the Philippines", participants tried to assess the situation of Philippine fisheries in the disputed areas, their significance for the Philippines, and to examine the costs and benefits of various courses of action that the Philippines can pursue with neighboring states.
Three speakers discussed different aspects of Philippine fisheries. Bureau of Fisheries and Aquatic Resources (BFAR) Assistant Director Atty Benjamin Tabios talked about the status of Philippine commercial fisheries; Commodore Athelo L. Ybanez, commander of the Maritime Safety and Law Enforcement Command of the Philippine Coast Guard (PCG) gave a presentation on maritime law enforcement in SCS; and Dr. Jose Ingles of the World Wildlife Fund Coral Triangle Initiative expounded on the prospects for a regional fisheries management organization.
The discussions included proposals such as transforming the rapidly deteriorating resources in disputed areas into a regional marine protected commons, or a peace park for marine ecotourism, as well as promoting scientific collaboration among marine scientists of SCS littoral states.
Dr. Jay Batongbacal, Director of UP IMLOS stressed the importance of keeping an open mind in looking for the best ways to mitigate damage to the environment and resources that was otherwise likely to occur in the long run. "I think it's really very good for us to be open and frank and, in a way, very pragmatic in discussing these issues because we can already see, especially with the South China Sea, that competition is not really in our interest at this point because of the huge losses we will incur," he said.
Dr. Batongbacal added that "Cooperation is not that easy to establish but we've shown in the discussion that it is possible for the Philippines to also strike cooperative efforts with other countries… We can only hope that we will be able to induce this change in time to minimize further damage which might become irreversible."
Other participants also underscored that only a mixed-use resource management approach to the South China Sea involving both resource exploitation and conservation will be acceptable to the parties concerned. APPFI Chair Raphael Lotilla, who was at one time Executive Director of the international program Partnerships in Environmental Management in the Seas of East Asia, pointed out the need for a more strategic, proactive, and regionally-oriented approach by the Philippines.