In the afternoon of July 11, 2017, APPFI organized a roundtable on China's Belt and Road Initiative (BRI) and how it may impact on Philippines-China infrastructure cooperation. BRI, formerly called the One Belt One Road (OBOR) is a new platform for Chinese foreign policy that was first announced in 2013 but seemingly re-launched at the highest levels last May 14, during the BRI Forum for International Cooperation held in Beijing.
The two main speakers at the roundtable were APPFI President Aileen Baviera and former NEDA Director General Cielito Habito. Twenty-nine participants representing eleven institutions were present at the forum, which was co-organized with and held at the Astoria Plaza in Pasig.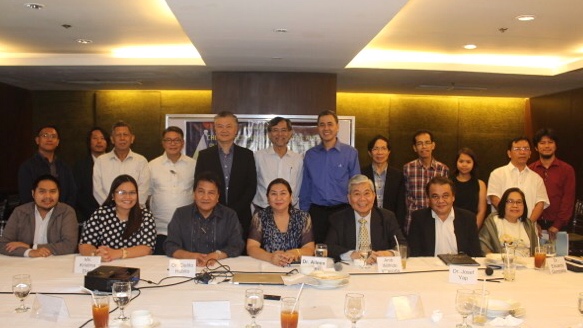 Various participants from the government, academe, and the private sector convened for a roundtable discussion on China's Belt and Road Initiative, and Philippine-China infrastructure cooperation.
Dr. Baviera's presentation, titled "China's Belt and Road Initiative: Vision vs. Implementation", provided a comprehensive introduction on China's Belt and Road initiative, explaining the what, why, and how of the grand project from China's perspective. The project, which includes 65 countries and has two components (The Silk Road Economic Belt and the 21st Century Maritime Silk Road), focuses on connectivity in terms of (1) policy coordination, (2) facilities connectivity i.e. infrastructure, (3) trade connectivity, (4) finance connectivity, and (5) people connectivity. From an economic perspective, the main objective of China in launching this initiative is to put its excess production capacity to profitable use, while at the same time developing the Western part of China. Thus, the focus in on infrastructure building. Based on several analyses, the BRI also serves to shore up domestic support for Xi's leadership. At the same time, it may also be aimed at countering the China Threat rhetoric as China refocuses its foreign policy on cooperation-centered discourses.
Dr. Baviera also gave a clear overview of the possible benefits and costs of engaging with China on the BRI. Financing for infrastructure, access to technology and the Chinese market, connectivity with other countries, reducing dependence on traditional donors, and development of badly needed ports and airports are some of the identified benefits under the BRI. Hypothetically, some possible costs or risks would include being caught in a "debt trap" particularly should there be unfavorable terms for loans, having to adjust to new or incompatible technologies and systems, or lack of capacity to absorb Chinese demand for Philippine products and services should BRI participation result in significantly more trade and investments. There are also risks of increased economic dependence on China, added security vulnerability should some of the projects touch on sensitive areas, and perceptions of an obligation to politically support China's "grand strategy".
China's own concerns on the implementation aspects of the BRI were also highlighted in her presentation, particularly fears about the security situations in partner countries, and the possibility of policy inconsistency and reversals by the governments. She concluded by saying that the Initiative itself is dynamic, open to negotiation and reciprocity, and presents a choice for the Philippines, rather than being seen as inevitable. Since there are both potential benefits and costs, it is wise for the Philippines to develop a policy on China's BRI, while also being mindful of the risks of bandwagoning on the project as more and more countries and organizations participate. Recalling past incidents such as the Northrail scandal and the failed NBN-ZTE project, the Philippines must also learn from its own past mistakes in engaging with China economically.
Dr. Habito's presentation, on the other hand, was titled Belt and Road Initiative: Implications, Opportunities for the Philippines. He looked at how the Philippines should fit within the BRI initiative, proposing that it is necessary for the Philippines to identify opportunities within the BRI initiative with respect to and in the context of our ASEAN membership. This main point is elaborated by highlighting five key points.
Firstly, ASEAN has done the Philippines much good. Economic integration within ASEAN has resulted in a complementary trade relationship with ASEAN economies via regional value chain networks. For the Philippines, this meant larger trade with ASEAN overall, which has benefited everyone in the region. While this is the case, Philippine trade with ASEAN appears to have leveled off more recently, whereas trade with China continues to grow at an increasing rate due to the ASEAN-China FTA which came into effect in 2010.
This brings us to the second point. China looms large in our economy: China's economic presence in the Philippines is already widely felt, as exemplified by our growing bilateral trade, China's growing presence in our local consumer market, and overall good economic relations with China. But while this is the case, Dr. Habito cautioned against burning bridges with the West who continue to be our top economic partner.
Thirdly, China is coming and "coming in a big way". China's economic footprint is so widely felt that even the IMF forecasts that world economic growth would lose 1.5 percentage points should China stop growing. Hence in that sense, it is also in the interest of the international community that China does something fast i.e. the OBOR or Belt and Road Initiative. As for this initiative, its scope and coverage is estimated to be 12 times bigger than the Marshall Plan (US$2-3 Trillion).
Fourth, the Philippines must be proactive if it wishes to benefit from BRI. This is especially true since we are geographically separated from the "core" of the initiative, hence we need to "run" for those opportunities. In doing this, we have to look at first the ASEAN initiatives that we currently have and leverage on those. Elaborating on this point, Dr. Habito pointed out that many Filipino firms are already engaged with the ASEAN Economic Community, and that the common thread among these companies is that they have been proactive and not defensive in engaging such opportunities. Hence in moving beyond ASEAN (e.g. entering BRI), the Philippines should shed its defensive posture, leverage AEC regional integration, and tap BRI opportunities via ASEAN business partnerships.
Intentionally digressing from the subject, Dr Habito warned of a silent crisis in our midst, referring to the country's demographic situation which could be both an opportunity (demographic sweet spot) or a huge cost (demographic time bomb) if proper action is delayed. Based on our current demographics, he said, in 2050 working age Filipinos will outnumber the dependent elderly and very young. However, inasmuch as 1 out of 3 Filipino children are currently stunted in their growth, this demographic sweet spot could be reversed into the rise of a stunted generation of working Filipinos. The message is that we have to take action and feed our youngest children.
During the open forum, the questions were mostly related to the Philippines-China engagement in light of the current administration's priorities. For instance, the participants noted that a lot has been said and written regarding the mode of financing for infrastructure development projects, which is the Duterte administration's priority. Unlike the Aquino government which promoted the model of Public-Private Partnership (PPP), the Duterte government prefers to venture into ODA-funded projects, especially with China, Each mode has its advantages and disadvantages, it was argued. The discussions however stressed that regardless of the mode of financing, government should improve its capacity to deliver and implement projects more efficiently in terms of rolling them out and selecting which projects are most optimal. Timing is also relevant especially given the administration's remaining five-year term and the propensity for policy discontinuities that follow changes in administration.
Also mentioned was the slow progress of bidding out feasibility studies for PH-China cooperation projects. Two projects that are currently under consideration for feasibility studies are the Davao Express Way, and the Panay-Guimaras-Negros Bridge.
The discussions revealed mixed reactions from the participants with regard to Philippine economic engagement with China, over and above the BRI initiative. Should the BRI indeed become the next big thing, how can the Philippine leverage this opportunity to our advantage?, it was asked. It is in this respect that the Duterte government needs to develop a strategy in engaging with China, and engaging with its Belt and Road Initiative, more specifically.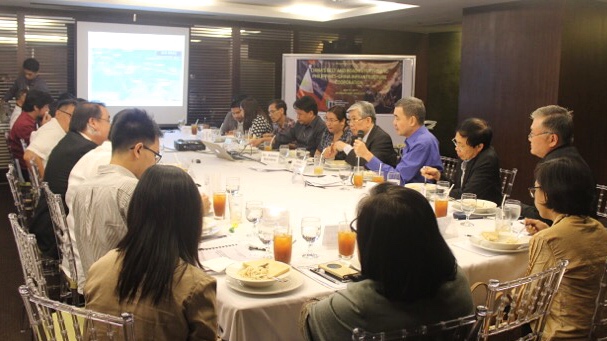 ---
*This article was written by Enrico Gloria, a graduate student taking up Masters in Chinese Politics, Foreign Policy, and International Relations at Tsinghua University. He is currently a research intern of the APPFI.
**For educational purposes only. No copyright infringement intended.